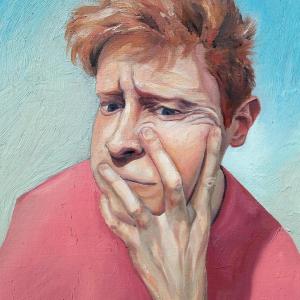 Mason Barnes-Crouse
Artist member since 2019
Toronto, Ontario
I can't remember when I started drawing. I must have been an infant with poor dexterity and undeveloped motor skills. That obviously didn't stop me. In the beginning I'm sure it wasn't even a conscious thing. It wasn't something I was good at or something that fed my identity in any way, it was just spontaneous and fun. In fact, it took me a long time to recognize that drawing was something I wanted to pursue despite having done it obsessively my whole life. I think I needed some obstacles to overcome and some projects that really challenged me to see what I was made of. That said, I'm still an artistic infant. I still have so much to learn.
All my friends eventually become paintings. It's inevitable. You hang out with me long enough, I will capture you on a canvas. If it isn't your face, it's your hands. If it isn't your body, it's your memory. You will become my art one way or another. There is no escape. You might even end up getting put up on a wall in a gallery and getting sold off. It happens. Sure, people will miss you, but your contribution to my career was for the greater good. In fact, consider yourself immortalized. You're welcome.
I also make comics, usually about pathetic angsty teenagers and their awkward relationships. My characters are often naïve, arrogant or in denial about something. I also enjoy killing off my characters, it's strangely cathartic. Call it self-deprecation, call it tortured artist syndrome. I revel in it.
---
Describe your home in 3 words
Cozy, lovely, dank
Favourite movie
Persepolis
Beverage of choice
Nalgene
When I'm not making art, I'm (a) ...
mess.
Favourite musical artist / band right now
Unknown Mortal Orchestra
What places do you hang out in Toronto?
Life drawing at OCAD!!!
SHARE THIS ARTIST
What do you mean, "try"?
Try-before-you-buy with a 3 month rental. 100% of your rental payments go towards the purchase (interest free). Message the artist directly, and start the conversation.
---
Art made (truly) affordable
We make it easy for you to try art with smart payment plans and try-before-you-buy models.
See How It Works
---
You're covered.
Artwork protection is included on all art rentals up to $5K. Our Customer Care team is always here to help.
Contact Us
---
Unlock Trade Access
For industries including interior design, film/TV production, & real estate staging: rent original pieces that fit with your project vision, budget and timeline.
Apply for Trade Access
---
1% from every transaction goes towards SKETCH WORKING ARTS.